Be prepared to
learn

,

laugh

and

lean in

with an enthusiastic, engaging and motivating speaker.
ABOUT LISA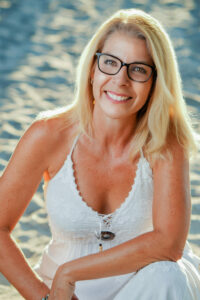 Lisa is the President and Founder of New Day Wellness Inc. and the New Day Wellness Academy, an International Motivational Speaker, Global Educator, Corporate Wellness Coach, and TV Show Host of "Your Wellness" on Eastlink TV. She has utilized her 30 years in the fitness and wellness industry to develop the New Day Wellness Inc. mission "Bringing Health to Health and Safety".
After working in a variety of corporate industries, it was evident to Lisa that the culture of the workplace required a focus on employee wellness and giving employees 'permission to be healthy'.  Since employee wellness is the key to corporate success, this concept is a necessity for the longevity of any company or organization.
Lisa is a keynote speaker for a variety of Health and Safety Conferences, Staff Retreats, Non-profit organizations and various other public events.  She works with companies and organizations in the Health and Safety Industry, Education (Elementary & Post Secondary), Mining, Home Care, Mining, First Nations Communities, Finance, Non-profit, Municipal, Provincial and Federal Sectors and has noticed a positive shift when it comes to a healthy workplace culture, but there is still much more work to do.
Lisa is a National Mental Health First Aid Trainer, Nutrition and Wellness Specialist, a Certified Fitness & Personal Trainer, and Yoga Instructor.  She is also a part-time College Professor, a Professional member of the Canadian Association of Professional Speakers, a  Competitive Tap Dancer, and in the process of writing her first wellness book.
"Being healthy doesn't have to be that complicated"  it's Lisa's passion to motivate, strengthen and empower as many people to Make Wellness a Priority.

KEYNOTES & WORKSHOPS
EMOTIONAL BALANCE & INCLUSION
As a leader, its imperative to control your responses to negative and stressful events. Managing your reactions in a healthy and safe way will allow you AND your team to thrive. Emotionally balanced leaders demonstrate inclusion which generates trust and respect with each other.
THE PATHWAY TO DIVERSITY AND INCLUSION
As society struggles to find balance with the ever-changing landscape of our world, it's vital to understand how our unconscious biases and inherent need to feel included is impacting our ability to work together towards a common goal.  Understanding diversity does not have to be complicated and learning how inclusion brings humanity back into focus is what Lisa focuses on in her engaging and impactful talk.
FAIL FAST & PIVOT
The concept of "Fail Fast & Pivot" and its direct link to resiliency will be explained through real-life stories, messages of hope and the concept of Post Traumatic Growth. The audience will also hear how the fear of failure can paralyze your ability to achieve success and develop resilience.  "When you lose, don't lose the lesson" – Dalai Lama."
DIGITAL DEMENTIA
Not only are we losing our ability to communicate and remember important facts, but it's contributing to the global crisis of mental illness. The good news is that Digital Dementia can be prevented and even reversed, if taken seriously. Lisa will engage you with her story-telling abilities, demonstrate to you what is happening in society today and motivate you to take action immediately.
BRINGING HEALTH TO HEALTH AND SAFETY – WHAT'S YOUR PPE?
A retrospective look into what it really means to be "safe" on the job. Most health and safety policies and procedures are leaving out a key component which is the "mental health and wellness" of the employee. Lisa will demonstrate what a 'fully-protective' PPE looks like and what part of your protective equipment offers the best defence against a critical injury.
MAKING WELLNESS A PRIORITY
Lisa will take you through an engaging journey of what life can be like if you don't take the time now for your health as opposed to how it can be if you do. She will also uncover all the excuses that are being used and show you how you can bust them all!
WORKPLACE FATIGUE – WHAT TO DO ABOUT IT
In addition to environmental hazards in the workplace, workers can struggle with mental and physical challenges; and these challenges like workplace fatigue, bring an element of risk to the workplace. The audience will be emotionally and physically involved in this presentation and be empowered to implement necessary changes personally and professionally to enjoy the benefits of better sleep and avoid the dangers of worker fatigue.
MENTAL HEALTH IN THE WORKPLACE
Mental Illness is currently a leading cause of disability globally. The workplace relies on healthy-minded individuals, hence why improving the overall mental health of your employees is so important. The stigma of mental illness continues to plague society an it's time to break down barriers and talk more about it. Using recent stories of people suffering and research Lisa has uncovered, she will highlight the signs and symptoms of common mental illnesses and demonstrate how anyone can make an immediate difference to those suffering.