welcome
At New Day Wellness, our mission is to offer a common-sense approach to living a healthy well-balanced lifestyle both at home and at work.  Resulting from our passion to Motivate, Strengthen and Empower individuals, we have developed our unique P.E.A.K.™ Workplace Wellness Training Programs for every 'body' and every industry.  It is not just a benefit to have healthy employees, it is essential. Employee wellness is the key to corporate success and it's important to understand that a healthy employee is a safer, more productive employee.

According to the World Health Organization, chronic diseases are the major cause of death and disability worldwide.  In Canada, chronic diseases are projected to account for 89% of all deaths.  Canadian employees with four lifestyle risk factors (eg. sedentary, overweight, smoker, high alcohol intake) are absent over 50% more often than those without the risk factors, and cost their employers 2-3 times more in health benefit costs (The Business Case for a Healthy Workplace, 2011).
Lead the way and reverse this trend with the support of New Day Wellness.
The Walk4Wellness Corporate Walking Challenge is Back! Register your corporate team, challenge your industry rivals and get ready to be active! June 2018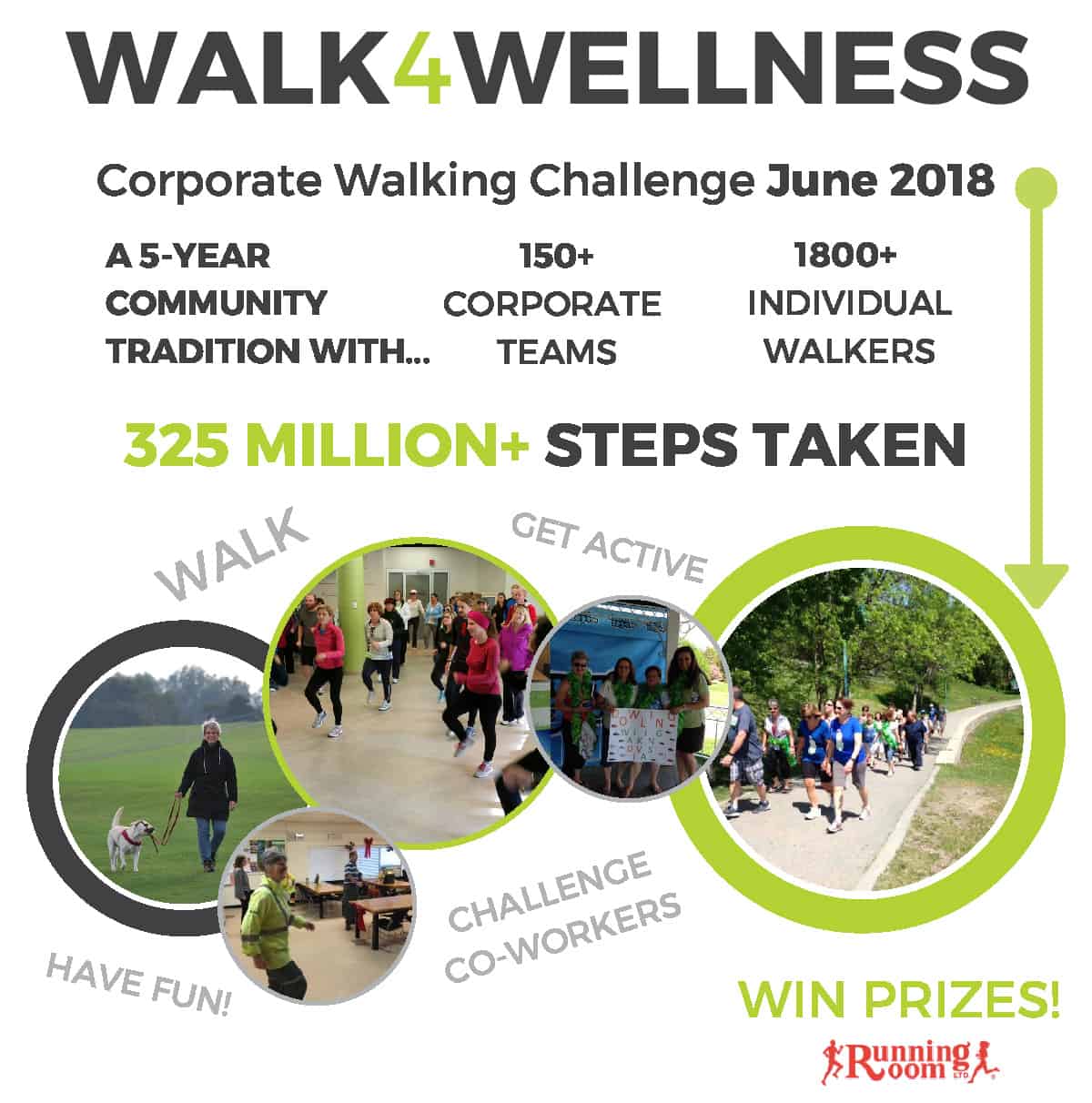 prizes + incentives
Prizes will be awarded to the:
Top Individual Walker

Signature Running Room Jacket & Backpack
Winners Plaque

Top Corporate Team

Group Lunch & Learn
Winners Plaque
Access to the LogYourSteps online platform for 1 year.
participants with disabilities
The Walk4Wellness Corporate Walking Challenge has been created to get everyone moving. For individuals using a wheel chair or other mobile devices, a conversion chart to track activity will be provided on the LogYourSteps platform.
rules + regulations
Each workplace will appoint a "Challenge Coordinator / Team Captain" to liaise with New Day Wellness during the challenge. This data will be collected weekly by New Day Wellness through the LogYourSteps platform.
All fitness trackers can be worn throughout the day and evenings.
A LogYourSteps online platform will be accessible for each participant.
Each participant will be on the honour system when tracking his or her steps.
This is not only a team challenge, but also a personal challenge to do your best physically.
Signing up as a Corporate Team will give you the option of inviting another company to a friendly challenge.
Participants will also be able to use the online activity converter for any activity that is performed without the use of a fitness tracker (Ex. Yoga, Swimming etc.).
registration package
Option 1
HST Included
LogYourSteps Platform (1 Year Subscription)
additional info
LogYourSteps platform is used for all package options:
Accessed on smartphones, tablets, or desktop computers
Intuitive and easy to navigate
Includes colour coding to see progress
Has option to log healthy practices (e.g. meditation, water, daily fibre, etc.)
Converts all other activities into steps (Ex. Yoga, Swimming etc.)
Payments are processed securely through PayPal.